Bureau RUBENS /
Rubens Kid's desk
Design : Jean-François Bellemère
---
MATÉRIAUX / MATERIALS
Hêtre massif et MDF laqué. Bois de Franche Comté (France) issu de forêts gérées durablement. Fabriqué en France
Massive beech and MDF. Wood of Franche Comté (France) from sustainably managed forests. Made in France
DIMENSIONS / SIZE
Hauteur Totale : 63 à 76 cm
Longueur : 133 cm
Largeur : 60 cm
Height total : 63 à 76 cm
Length : 133 cm
width : 60 cm
FINITION / FINISH

« Apprendre en s'amusant… »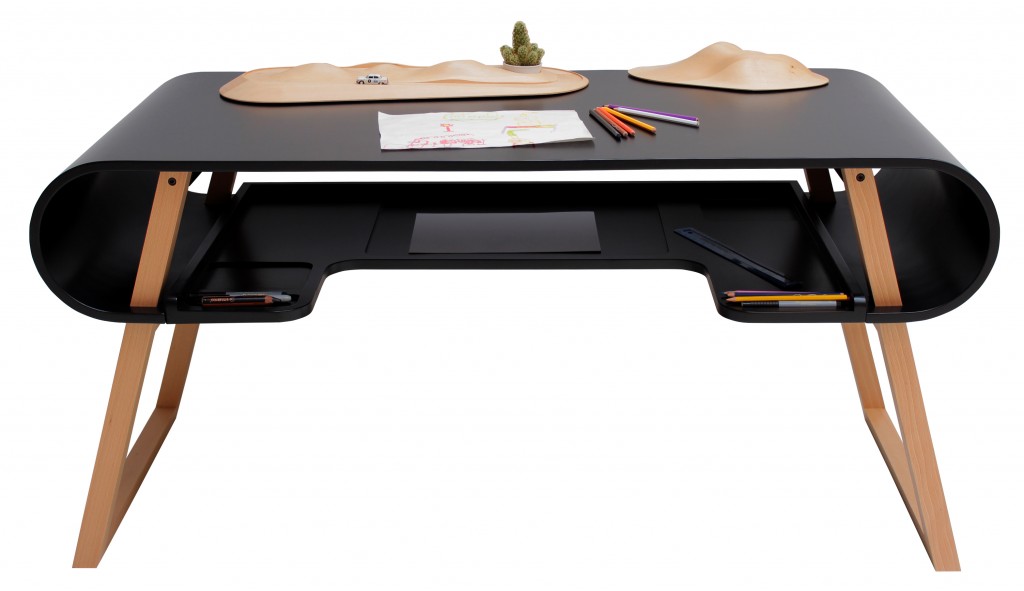 DESCRIPTION /
DESCRIPTION
---
Un bureau dont on peut faire le tour, un meuble pour travailler et apprendre, mais aussi un plateau de jeu où toutes les aventures sont possibles.
Dans la version avec montagne sur le plateau, une piste pour autos est aménagée ainsi que divers accessoires pour ranger.
An office which can do the trick, furniture to work and learn, but also a game board where all the adventures are possible.
In the version with the mountain plateau, a track for cars is fitted as well as various accessories store.
FABRICATION / MANUFACTURING
---

Sous la direction de Jean-François Bellemère, fondateur de Compagnie, les objets et mobiliers sont pensés de manière à simplifier les processus de fabrication et de transport, économiser les matériaux et valoriser le savoir-faire d'entreprises locales.
Edited by Jean-François Bellemère, founder of Compagnie, objects and furniture are designed to simplify the manufacturing process and transportation, saving materials and develop local business expertise.
PIÈCES FOURNIES / PARTS OBTAINED
---
RÉHAUSSES / RAISED
4 pieds supplémentaires permettant de surélever l'ensemble du bureau.
Ces réhausses sont à la couleur du plateau bureau (blanc, noir ou peinture à tableau).
4 additional feet to elevate the whole office.
These raisers are the color of the desktop tray (white, black or chalkboard paint).
PLATEAU RANGEMENT / STORAGE TRAY
Il dispose d'encoches pour ranger feuilles, cahiers et crayons.
Il est situé à 20 cm en dessous du plateau bureau.
It has slots for storing sheets, notebooks and pencils.
It is situated 20 cm below the desk top.
GOBELET / CUP
Un gobelet en porcelaine s'insère comme un encrier dans le trou du plateau.
Ce gobelet permettra de mettre des crayons, une petite plante, etc.
A porcelain cup fits like an inkwell in the tray of the hole.
This cup will put pencils, a small plant, etc.
OPTION : La piste et la montagne / OPTION : The track and the mountain
---
MATÉRIAUX / MATERIALS
Tilleul massif
Solid lime
DIMENSIONS / SIZE
Dimensions de la piste (L x larg x H) : 600 mm x 215 mm x 45 mm.
Dimensions de la montagne (L x larg x H) : 332 mm x 206 mm x 53 mm.
Dimensions of the track (L x W x H): 600 mm x 215 mm x 45 mm.
Dimensions of the mountain (L x W x H): 332 mm x 206 mm x 53 mm.
FINITION / FINISH
Cirée
polished wood

DESCRIPTION / DESCRIPTION
---
Elles se posent sur le bureau, la piste peut accueillir le gobelet et ainsi être maintenu au plateau du bureau.
They land on the desk, the track can accommodate the cup and thus be kept in the office of the plateau.

ON EN PARLE SUR… / WE TALK ABOUT…
HAND MADE CHARLOTTE …
---

Pour télécharger la fiche produit du Bureau RUBENS, cliquez ici
To download description of the RUBENS desk, click here